Hey fellows! Thought the blog was dead? Well, not really! It's just i haven't had things to tell YOU! So this time, what am I gonna talk about? Well, about the trip to Varsaw with my greatest friend Dagmar, who payed me a visit here in Lodz, and my first Couchsurfing experience with him too! So let's start to explain what the hell is Couchsurfing.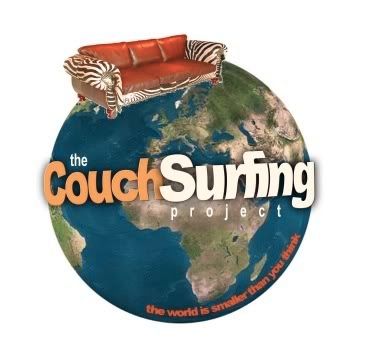 "The CouchSurfing Project is a free, Internet-based, international hospitality service, and it is currently the largest hospitality exchange network. The project was commenced in 2003 and formally launched on Jan 1, 2004.(...)
Members use the website to coordinate contacts and home accommodation (or "surf" others' "couches") with other network members around the world. The website allows the creation of extensive profiles, and uses an optional credit card verification system, a personal vouching system, and personal references to increase security and trust between members. The site offers other features such as discussion groups, events and meetings, and live chat.

in http://en.wikipedia.org/wiki/CouchSurfing

Oficial website is
www.couchsurfing.com
Knowing this let's go to the trip.
So we arrived and we met your host, Diana. We had a nice lunch with her father and later on we went to this pub, (can't recall the name) and grabbed some beers and shots, while getting to know each other, and her friends.
The night ended at her "couch" with four of us playing "
Never have I ever...
" guess about what? AHAHAH
Next day started with Dagmar stuck to the stick! :D Well, shit happens.
And some visits around the city. In this second picture, there's
Frédéric Chopin
sculpture and around are some benchs where, during summer, people assist some concerts that take place in there.
The University's entrance
And some departments
A very nice car, if you ask me.
if y
ou ask
ou ask
me .
The Polish White houseHouse!
The Polish White House!
The National Theater:

Old Town Palace:

Me and Dagmar being decapitated. :) I must say that even knowing that the guy woudn't cut my "gasganete" i was a bit afraid... well it's actually a fucking axe and you never know what's going on inside the guy's head!

Third day
Monument of Warsaw uprising 1944 and CourtHouse

Monument to the Fallen & Murdered.
Unveiled on September 17, 1995 in occasion of the 56th anniversary of USSR's aggression against Poland.
Do you want some Dagmar? :D
Small Town and the symbol of Warsaw, the Mermaid with the shield.

Very nice library. Beautiful.
The most famous building in Warsaw and the tallest in Poland... The Palace of Culture and Science. More info
here
.
From the ground and from upthere! :)
The nice Zlote Teraszy Mall, with waves covering it. Very nice.

Last thing of the day was the visit to the Warsaw Uprising museum, which was quite impressive. I don't have many pictures, and given the poor light conditions, the ones I got are not the best either.

Real scale plane
One of the pictures which touched me the most was this one. Burning photos of mister
Hitler
.
And finally we ended up in a very nice club, called "Club 70's". Amazing place, and great music.

Last day
To finish, a small gift to Justyna just before leaving. :D Great portuguese guys. eheh

And finally, saying goodbye to our host! Thank you for everything! See you in Gdansk in June or July!!! :D

Krakow's report soon enough. :)
See ya there!